The beginner's guide to sheet vinyl flooring
How to select the right flooring for your home
Selecting the right flooring for your home can be a tough decision. Flooring sets the tone for the rest of the room and not only has to meet your interior style preferences but also be suitable for your lifestyle. There are so many different types of flooring to choose from with all of them touting different features and benefits. Before making a flooring purchase, you should ask yourself some basic questions to determine what features are important to you.
What room(s) in your home is the flooring going to be installed in?
Do you have pets and/or children?
How much can you spend on flooring and installation costs?
Do you prefer a floor that has low maintenance requirements?
Your answers to these questions can help guide you in selecting the right flooring for your home.
If you answered yes to any of these questions, one flooring category to consider is sheet vinyl.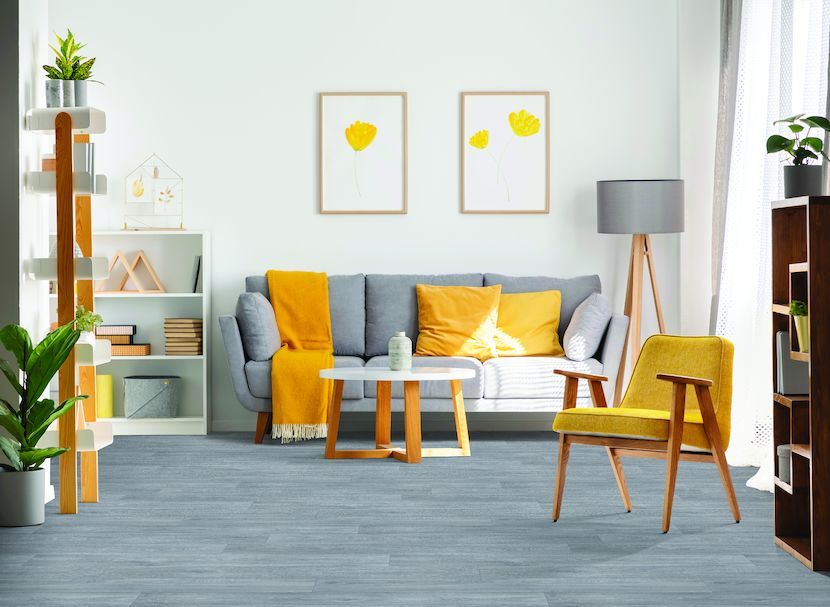 Blacktex HD - Minimalist Slate
Why Sheet Vinyl?
Sheet vinyl is known for being a great option for kitchens and bathrooms because it is waterproof and easy to clean. However, due to improvements in design offerings and textures, sheet vinyl is now making its way into other rooms of the home.
One of the major benefits of sheet vinyl flooring is that it is waterproof. Sheet vinyl is composed of waterproof material, such as polyvinyl chloride (PVC), and is installed as a solid sheet with no joints or openings in smaller rooms or with a small seam in larger rooms that restricts water from passing through to the subfloor. These properties make sheet vinyl suitable in areas subject to spills and moisture like the kitchen or bathroom.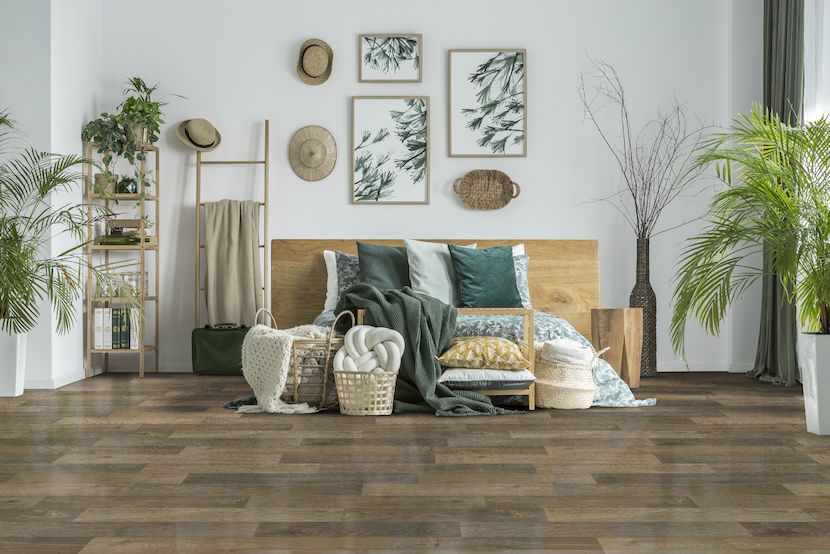 Smartex Pro - Hong Kong Sunset
Another feature of sheet vinyl is its durability. The more durable the floor, the longer it will last in your home. If you have pets and/or children, sheet vinyl is a great option because it is durable enough to withstand pet claws and toys being dragged across it.
Sheet vinyl is also a more affordable flooring option in comparison to other flooring types such as hardwood and ceramic tile. It is a great option for budget-conscious individuals that want the look of a high-end floor without the price tag.
Installation costs are also typically lower because sheet vinyl comes on a roll that is unwound and cut into a sheet the size of the room and trimmed around walls, cabinets, and kitchen fixtures. This makes sheet vinyl faster to install compared to other flooring products that have to be installed one plank or tile at a time, which is more labor-intensive and costly.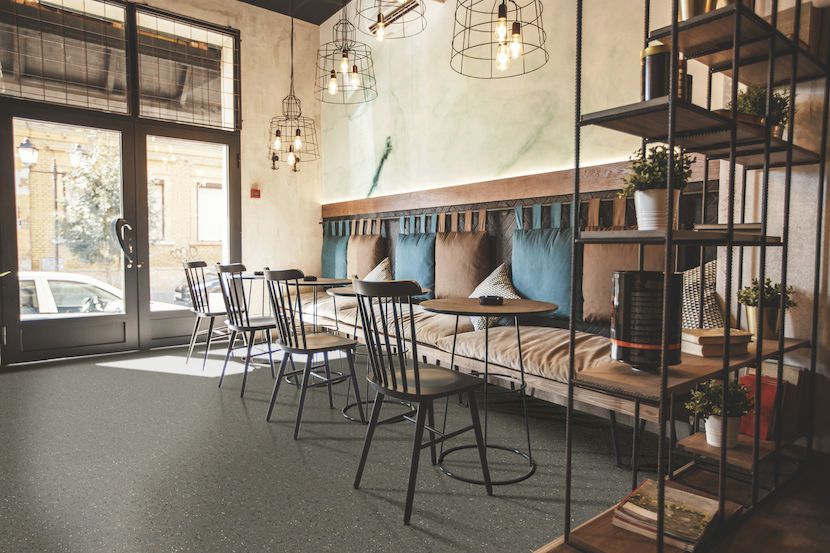 Another benefit of sheet vinyl is that it is low maintenance. Unlike other types of flooring that require waxing, buffing, or routine vacuuming, sheet vinyl can be easily cleaned by using a broom to sweep away dirt and a damp mop to clean up spills.
Since sheet vinyl does not have any joints or openings between individual planks and tiles, it keeps dust and debris from accumulating. Furthermore, sheet vinyl has a clear protective surface layer called the "wear layer" that adds an extra barrier against stains and spills that makes cleaning them up easier.
Beauflor USA specializes in the manufacturing of sheet vinyl flooring. The majority of our sheet vinyl products are manufactured in the USA at our state-of-the-art manufacturing plant. We offer 3 different types of sheet vinyl products: luxury, crafted, and commercial.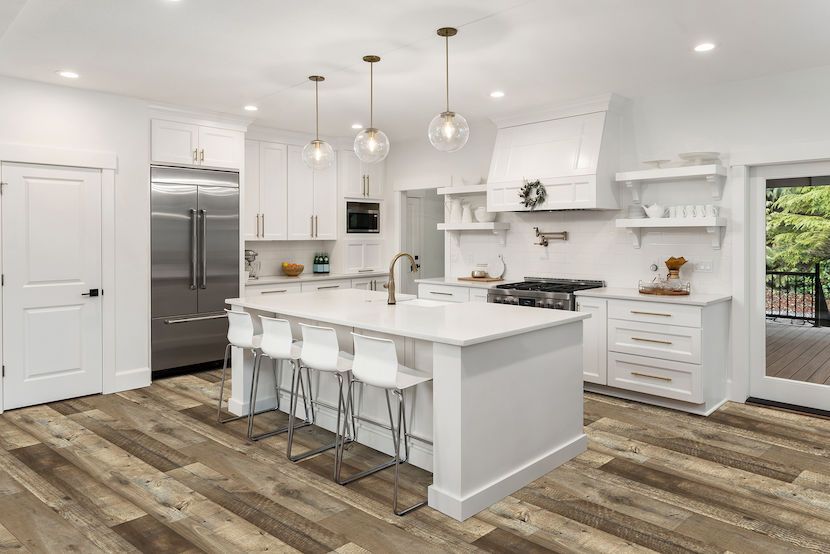 Reflect+ - Castlewood Oak
Pros & Cons of Sheet Vinyl comparison chart
Pros

Cons

- Waterproof
- Pet & Kid friendly
- Low maintenance
- Scratch & stain resistance
- Comfortable underfoot
- Durable
- Affordable
- Easy to installation
- Sound absorption
- Multitude of design options
- Environmentally friendly & reclaimable
- Ortho phthalate free

- Discoloration from intense direct sunlight
- Subfloor must be smooth and flat
- Damage to floor must be cut out and replaced








Why do we offer 3 different types of sheet vinyl? To meet the needs of diverse customers with unique flooring needs. Our luxury vinyl products feature a luxurious textile backing that enhances underfoot comfort, thermal insulation, and sound absorbency. Our crafted vinyl products offer 2 different backing types: comfort and power.
"
Comfort Bac
" products feature
added underfoot comfort and sound absorption
, while our "
Power Bac
" products have
added protection against indentations and wear
. Our commercial sheet vinyl products are designed specifically for the commercial construction sector and residential areas with heavier foot traffic.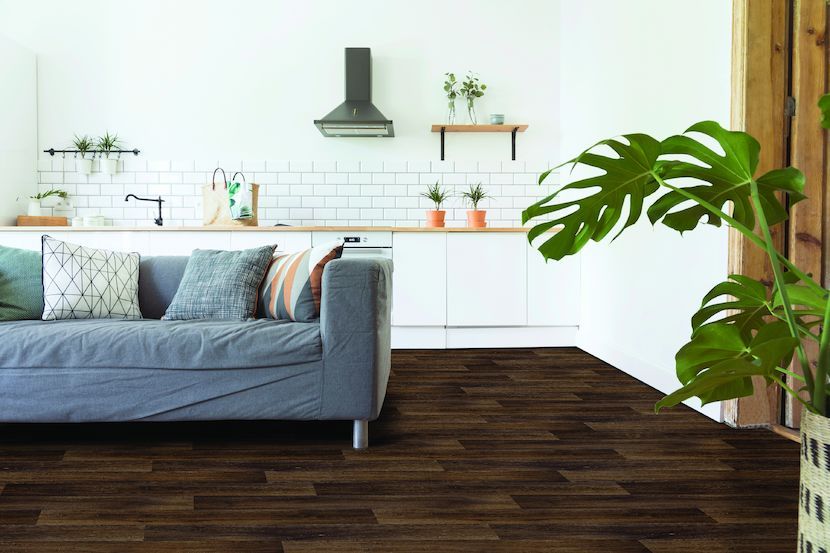 Metro+ - Urban Oak Brunette