The beginner's guide to rigid core vinyl flooring
There are a lot of different options to choose from when picking new flooring for your home or business.
Some options like hardwood and ceramic tile can be expensive to install, cold in the winter months, or hard to repair if the floor is damaged. For these reasons combined with the need for a flooring solution that is waterproof and pet friendly, another flooring category was introduced to the market – rigid core vinyl flooring.
Rigid core is a type of luxury vinyl flooring that typically combines a vinyl print layer with a "rigid" core layer to provide more dimensional stability and resistance to dents and scratches.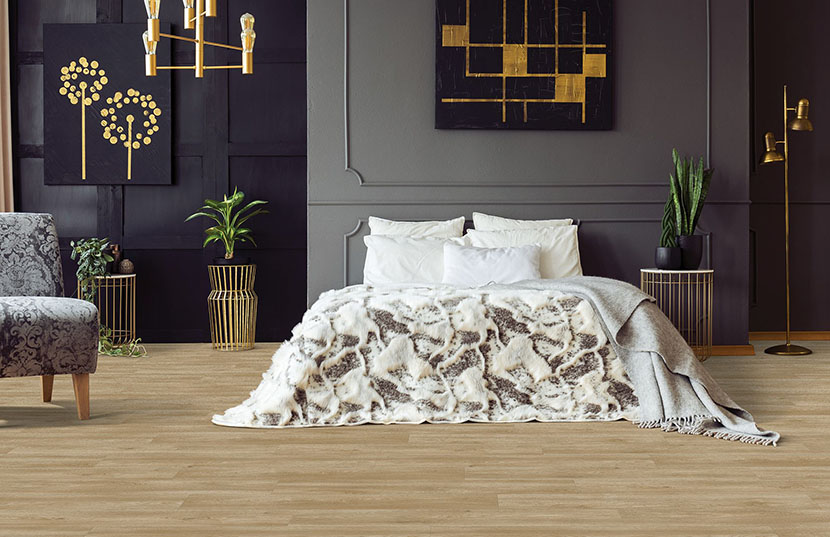 Pure - Columbian Oak Sand 216M
Dimensional stability
Dimensional stability is very important in flooring as it determines how much your floor will "move" after it is installed. Flooring products that are less dimensionally stable may experience shrinkage and/or swelling due to external temperature changes and the amount of moisture that occurs when the humidity fluctuates in the room. This type of change in your flooring can be visually unappealing. The rigid core enhances the floor's ability to maintain its dimensional stability despite temperature and humidity fluctuations in the room.

Dimensional stability isn't the only benefit of rigid core vinyl flooring. This type of flooring is typically made up of multiple layers that all work together to enhance the floor's performance. Most rigid core vinyl products are made up of 4 basic layers: a wear layer, a vinyl print layer, a rigid core layer, and a backing layer. The wear layer is very important as it protects the vinyl print layer and adds resistance against stains, scratches, and everyday foot traffic. The rigid core layer adds dimensional stability but also plays a role in the underfoot comfort and sound absorption of the flooring. The backing layer helps secure your new floor to the subfloor, as well as adds some underfoot cushioning and sound dampening performance.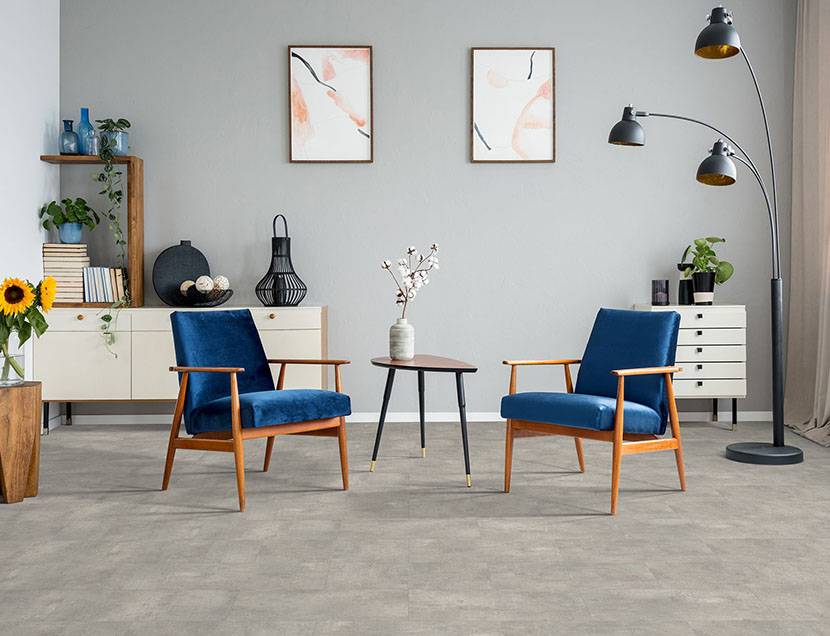 Waterproof
Another benefit of rigid core vinyl flooring is that the core is waterproof.
This means that the flooring will not absorb or change its shape if exposed to water. This is an important feature allowing the floor to be installed in rooms where spills are common like kitchens, bathrooms, and laundry rooms. However, it is important that any spills that occur are wiped up promptly and that any water or moisture issues in the room be addressed before installing any new flooring. This will ensure the subfloor underneath remains clean and dry.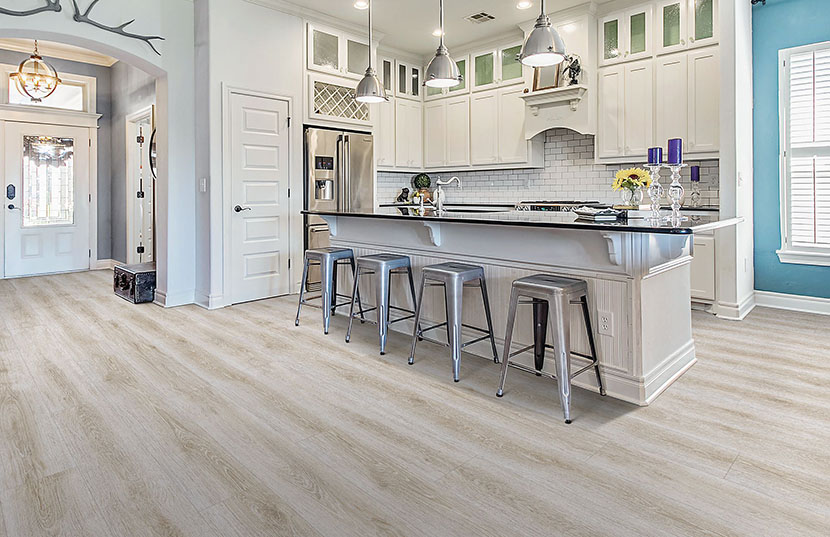 Pure - Toulon Oak Flaxen 069L
Pure Rigid Composite Vinyl Plank & Tile
Beauflor USA's Pure is a unique rigid core vinyl flooring product as it features a sheet vinyl design layer instead of a standard print layer. This sheet vinyl layer enhances the floor's sound absorption performance making it up to 50% quieter when compared to other floors on the market. It also has a foam layer in its core to enhance underfoot comfort and to make the product lighter which reduces CO2 transportation emissions and allows for easier job site handling.

Pure does not need a backing layer or attached pad since its sound absorption and underfoot comfort is built into the core and sheet vinyl layers. It can be installed directly on top of the existing subfloor with little to no subfloor preparation. A separate underlayment can be used as an additional moisture barrier and to smooth over minor subfloor imperfections.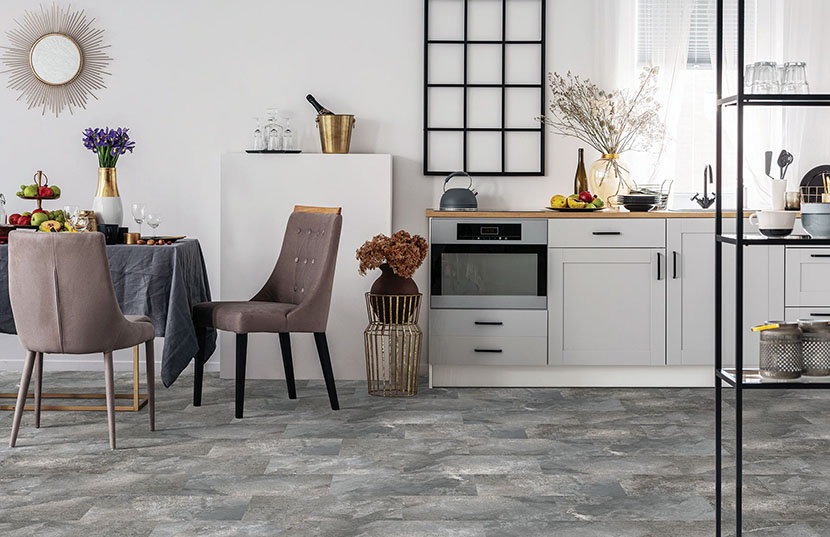 Pure - Newcastle Shadow 796D
Pure features 24 beautiful visuals in a mixture of tile and wood designs. Each individual plank and tile features our patented DreamClick® locking system that gives you the ability to create unique designs and patterns like herringbones and basket weaves, as well as allows you to mix tile and plank designs to create one-of-a-kind floors. This unique locking system also makes the installation process faster since the flooring can be installed in multiple directions at the same time and requires the use of minimal tools.

Pure is also waterproof, resistant to scratches and indentations, easy to clean, and requires minimal routine maintenance.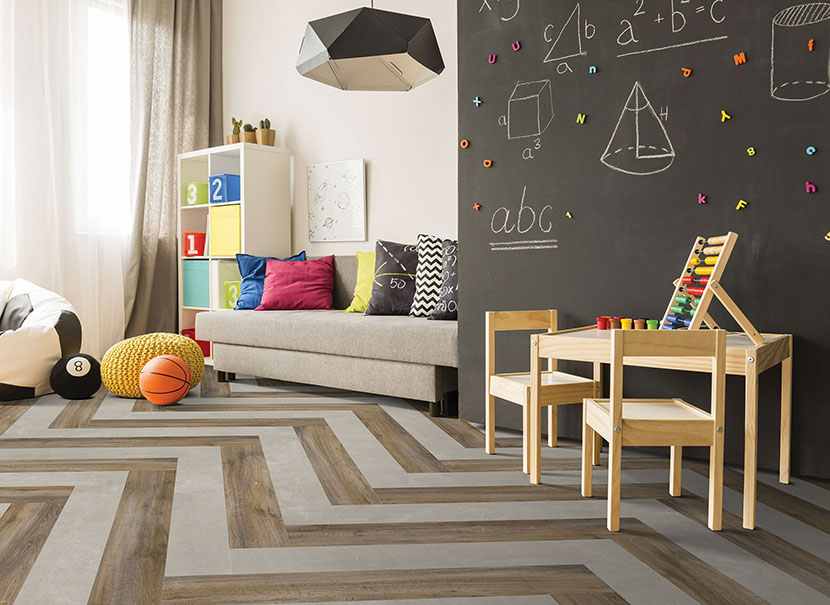 Pure - Lime Oak Saddle 669M & Urban Limestone 166S